Chinking and Caulking
Chinking
Whether it's a new home or an antique, log homes need to be sealed and protected.
Properly installed chink and caulk help to keep moisture and insects from invading your log home and it makes a big difference in the amount of energy loss from gaps between the logs and around doors and windows.
As a rule, we don't chink gaps that are three-quaters of an inch or smaller. Anything larger gets chinked – smaller openings are caulked. Checking, or the natural cracking of the logs should not be caulked or chinked, but left open as nature intended. Unless they get very large around windows or doors, checked areas should be allowed to breathe and not collect moisture. If they get too large, especially around doors or windows, we apply a product especially designed to protect the checked area from exposure to damaging moisture or allowing insects to take-up residence.
Chinking takes on many forms.
We prefer an acrylic latex product that resists UV light, expands and contracts with the temperature variations, and seals out moisture and pests. Before we apply the chinking, we use a backer material or rod to help fill the void and provide an adhesion surface for the chink. This gives chinking material a foundation as it expands and contracts.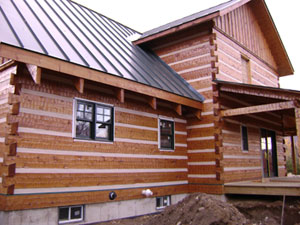 There's an art to chinking and we take it seriously. We use specially designed powered chinking guns to give a smooth and uniform look to the final product – we believe that professional results require professional tools.
If we are re-chinking, we take extra care to make sure that all areas are protected with stain, clean of debris and show no sign of moisture or pests. There's nothing worse than sealing in moisture or deteriorated wood – it only leads to more problems.
If we are chinking a new log home, we make sure the logs are properly sealed with stain and cleaned, apply the backing material, then apply the chink. Done properly, chinking should provide an effective barrier for years to come.
Caulking
Caulking is just as important as chinking. We're just dealing with the smaller cracks and crevices.
Again, we prefer the acrylic variety of caulk – it doesn't breakdown and maintains it integrity in all temperature conditions. As with chinking, it comes in a variety of colors to match your existing caulk or chink.
Effective caulking can go a long way to sealing your home from the damages caused my moisture and pest and save you money on your energy bill. An older log home would benefit from a full inspection for deteriorating seams and you would see immediate results from a new application of caulk and chink.